Next Level Camp is aimed at ambitious players who love basketball and who feel they want to develop and move to the next level in their favorite sports.
You will like to work out and feel that the day has too few hours to play basketball.
At Next Level Camp, training and basketball development are the focus.
You must be prepared to work hard and put a lot of energy and focus on getting better.
We have the knowledge and tools, now it's up to you …
We primarily focus on: Boys and girls born 2002 to 2008
Date: Week 1: 13-18 June and week 2: 21-26 June 2019
Location: Haninge, Stockholm
The current schedule for Next Level Camp will be mailed out in good time before the start of the camp
Week 1: Check in: Saturday 13 June 13.00-14.00 at Fredrika Bremer High school in Haninge
The camp close: thursday 18 June about 13.00
Week 2: Check in: Sunday 21 June 13.00-14.00 at Fredrika Bremer High school in Haninge
The camp close: Friday 26 June about 13.00
We stay in classrooms at Fredrik Bremer High School.
Breakfast, lunch, dinner and evening snacks are served in conjunction with the accommodation during the week.
Address:
Fredrika Bremer Gymnasium
Dalarövägen 64
136 46 Handen
Distance:
Car: About 20 minutes from central Stockholm
Train: Commuter train, station Handen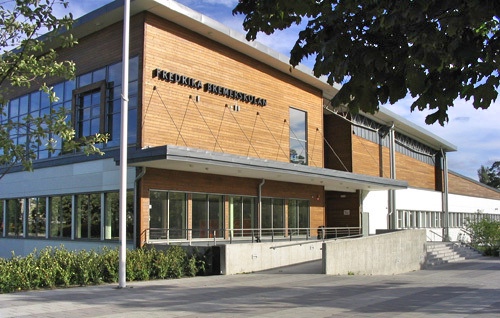 Next Level Camp is organized at Torvalla Sports Center with overnight stay on hard surface in classrooms on campus at Fredrika Bremer High School.
We have access to four full-size basketball courts, Torvalla Sports Hall, Söderbymalms School and the TT Hall, as well as great opportunities for physical exercise and outdoor activities.
Vad tyckte föräldrar och spelare om NLC18?
"Överlag ett fantastiskt läger som var mer inspirerande för barnen än vi vågat hoppas på. Glädje!"
"Det bästa med lägret var kombinationen av bra träning med tydlig förväntning tillsammans med en positiv anda, vilket alla tränare förmedlade på ett jättebra sätt."
"Aitor och Mohamed var helt suveräna, dottern sa att hon gärna skulle träna 7 dagar i veckan om det var med dom. Hon uppskattade också hur de gav konstruktiv kritik, tydliga instruktioner och pepp under matcherna. Aitor/ Mohamed är fantastiska förebilder, dottern kom hem och sa att hon kände sig "så inspirerad" av dom, och hade lärt sig så mycket nytt som ingen tidigare har sagt. Varmt tack för det!"
"Tack för hjälpen med mitt skott som jag känner är mycket bättre nu!"
"Helnöjda med den lyhördhet som stab (Joakim) och ledarna visade inför lägret med oron som fanns att sova borta med killar som var helt nya. Suveränt."
"Ett av de bästa lägren jag har varit på."
"Väldigt bra genomfört läger för att vara första gången!!"
"Min son längtar till nästa gång och önskar det fanns en vip-lista där hans namn stod, så han hade en garanterad plats."
Vad skiljer detta läger mot andra basket camp?
Så här svarade tidigare deltagare på denna fråga:
"Mer träning, bättre coacher, seriösare"
"Detta var ett seriöst läger där man hade chansen att utvecklas mycket som spelare"
"Mer individuellt och valbar mängd träning"
"Mycket träning, seriöst läger där alla vill utvecklas"
"Bättre mat"
"Lugnare omgivning, bättre klassrum/övernattningslokal och utrymme för umgänge."
"Bra koncept att man fick fokusera på det man ville träna på"
"Mer träning, mindre lek"
"Genomtänkt och planerat samt seriöst. Bra och nya övningar"
How many participants do you accept?
The quality of the trainings and the size of the training groups do that we only receive about 100 participants.
Can anyone sign up?
Boys and girls born 2002-2008, who love basketball and want to exercise a lot and hard are welcome to sign up.
The camp has big focus on basketball and training.
When do I pay?
Payment information comes with mail after you have signed up via the web form.
What language is the coaches talking?
All coaches speak Swedish and/or English
Can I wish who I'm going to sleep with?
Yes, you can do this when you sign up.
How long has Next Level Camp been?
Next Level Camp's first camp was in June 2018. The camp became a big success.
In 2019, we double the number of camp weeks, to two. Once again it was sold out.
2020 we will arrange two weeks again.
Our vision is to be Sweden's best basketball camp with players and leaders from all over the world
The best thing about the camp was the combination of good training with clear expectation together with a positive spirit, which all coaches conveyed in a great way.