Next Level Camp is aimed at ambitious players who love basketball and who feel they want to develop and move to the next level in their favorite sports.
You will like to work out and feel that the day has too few hours to play basketball.
At Next Level Camp, training and basketball development are the focus.
You must be prepared to work hard and put a lot of energy and focus on getting better.
We have the knowledge and tools, now it's up to you …
We primarily focus on: Boys and girls born 2002 to 2008
Date: Week 1: 13-18 june and week 2: 21-26 june 2020
Location: Haninge, Stockholm
The current schedule for Next Level Camp will be mailed out in good time before the start of the camp
Week 1: incheck: Saturday 15 june 13.00-14.00 at Fredrika Bremer High school in Haninge
The camp close: thursday 20 june about 13.00
Week 2: incheck: Sunday 23 june 13.00-14.00 at Fredrika Bremer High school in Haninge
The camp close: Friday 28 june about 13.00
We stay in classrooms at Fredrik Bremer High School.
Breakfast, lunch, dinner and evening snacks are served in conjunction with the accommodation during the week.
Address:
Fredrika Bremer Gymnasium
Dalarövägen 64
136 46 Handen
Distance:
Car: About 20 minutes from central Stockholm
Train: Commuter train, station Handen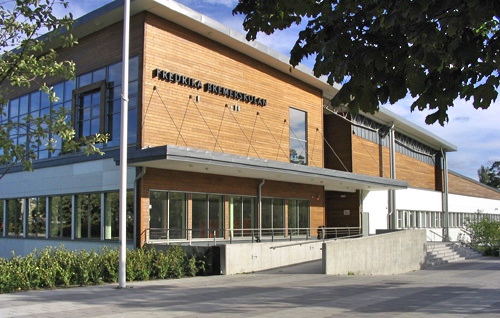 Next Level Camp is organized at Torvalla Sports Center with overnight stay on hard surface in classrooms on campus at Fredrika Bremer High School.
We have access to four full-size basketball courts, Torvalla Sports Hall, Söderbymalms School and the TT Hall, as well as great opportunities for physical exercise and outdoor activities.
How many participants do you accept?
The quality of the trainings and the size of the training groups do that we only receive about 90 participants.
Can anyone sign up?
Boys and girls born 2001-2007, who love basketball and want to exercise a lot and hard are welcome to sign up.
The camp has big focus on basketball and training.
When do I pay?
Payment information comes with mail after you have signed up via the web form.
How long has Next Level Camp been?
Next Level Camp's first camp was in June 2018. The camp became a big success.
In 2019, we double the number of camp weeks, to two.
Our vision is to be Sweden's best basketball camp with players and leaders from all over the world
Can I wish who I'm going to sleep with?
Yes, you can do this when you sign up.